Latest Issue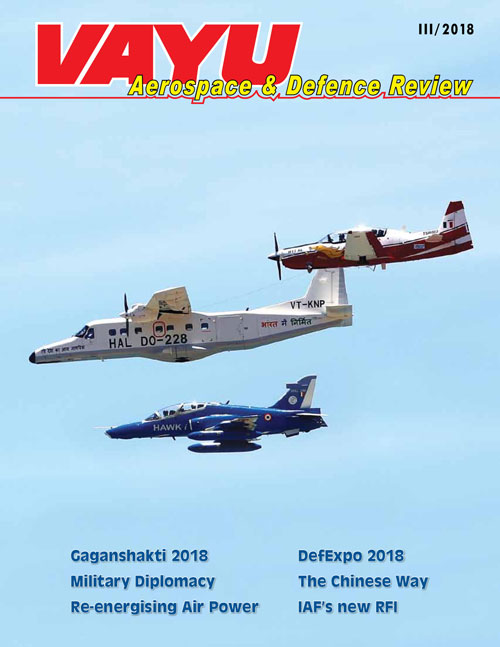 Selected Articles
Honour for Vayu on eve of the Paris Air Show !
In "celebrating excellence in Aerospace Publishing", organisers of the 2017 Aerospace media event held this glittering function at the Aero Club de France, 6 rue Galilee, in Paris on 18 June 2017, eve of the Paris Air Show.

The Vayu Aerospace Review was nominated for the 16 th running year for a prestigious international award in Aerospace publishing, alongside the world's leading journals including Aviation Week and Space Technology, Flight International, Aviation International and others.

Its article, 'Red Star over Syria' by Sameer Joshi, a former IAF fighter pilot and great air enthusiast appeared in Vayu's Issue III/2016 , which was a judged as the 'Best Military Aviation Submission'. This actually follows the 'tradition' of the past decades where Vayu, as the only aviation journal being nominated from Asia, has received such recognition. The first was in 2001 concerning the Tejas light combat aircraft and over the years, Vayu's editorial team has garnered awards ranging from Angad Singh's 'Best Young Journalist' , to the "Lifetime Achievement Award" given to Pushpindar Singh, Founding Editor of the Vayu.

As the Chief organiser Peter Bradfield put it, "the last 12 months has been some dramatic changes, not only globally and nationally but also within our own aviation media industry. It is fair to say that it has been a challenge to put together the elements that go to make up the Aerospace Media Dinner. I am sure you may have noticed some changes in sponsors and Award categories. Nevertheless, I am delighted to say that in spite of the obstacles we are once again able to celebrate the very best in aviation journalism and publishing. This is largely due to the gracious and generous support of our sponsors. I would like to thank those sponsors who have been kind enough to stick with us and welcome, and thank, our new sponsors. Lockheed Martin, Nammo and Bell Helicopter.

AMD Judge Adam Konowe added "this year, most categories garnered more submissions than ever before. In fact, many categories attracted two or even three dozen entries. Under these circumstances, I hope you'll agree the old adage "it's an honor just to be nominated" is fitting here as well. Every shortlisted candidate should be proud of his or her accomplishment, even without a call to the stage. Your work is truly among the very best from past year. Moreover, your words and images have a global impact on an industry that enables, enhances and even protects the lives of millions. So, in spite of turbulence in politics and elsewhere, just remember, Plus ca change, plus c'est is meme chose.